We are Metro Detroit's first and best indoor inflatable party center designed for the entertainment of children and families alike. Extreme Fun's indoor play center that feature 30,000 sq ft. of a climate-controlled setting and has several large-scale inflatable's to climb, bounce and slide on.
Briarwood Mall: (248) 884-6666
BRIARWOOD MALL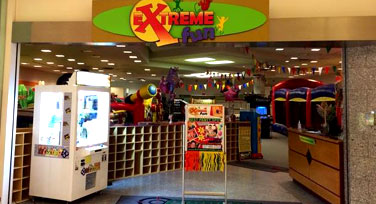 PlayTime Family Fun Center features Over 30,000 SQ. Ft. Party Rooms for Birthday Parties, Bounce Houses, Arcade Fun, Toddler Land, build your own stuff animal, popcorn, pizza, nachos, hot dogs, juice boxes, and much more. Parents, you will have a blast playing with your children or just sitting back & relaxing…
OUTDOOR PARTY RENTALS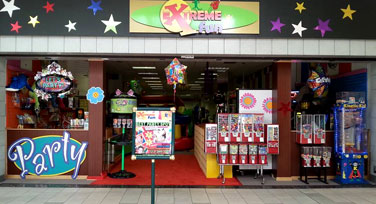 We offer party rentals for all of the popular inflatables. Bounce houses, castles, slides, and much more.
Book a Party
Booking a party is easy. Click the "Book Now" button below. We look forward to meeting your entertainment needs.
We had a great party! We couldn't have asked for better service and the overall experience was great. We will most definitely be back! No suggestions, just keep up the great work! Thank you!
GREAT PLACE TO TAKE YOUR KIDS!! We went to visit one Saturday, and the kids had the opportunity to Meet & Greet 5 different characters! The characters performance on their stage was simply AWESOME!
GREAT DEAL! Great Place! GREAT FUN Visiting the Macomb Mall!! I stumbled upon this HUGE inflatable playland! Really this place is huge! Had to drag my kids out!!! It was one price to play ALL DAY!! Yippie I get to shop, surf the net and sit in the massage chair while my kids bounce all their energy out!
My kids are 5 and 3 and they love extreme fun. Good price and it's unlimited play. Other places charge more and give you a set amount of time. Extreme Fun is perfect for rainy and super,hot days to get the kids out.
This place has the best prices around. I've tried out the bounce house but it didn't cut it for my kids. They like to play for hours! This is a good place to burn them out, and they think its a treat. Extreme fun was a perfect fit for my kids.
I love this place…..Super fun….Super big……The workers are always cleaning and willing to help….We have been to other Bounce House places and they want more money and even want to charge the adults to come in. Take your kids here and relax. Thanks Extreme Fun for being fun 🙂